2016 Annual Sale
The "Flight" of the Swallow to Alpine commenced with the 2016 Alpine Angus/Welcome Swallow Autumn Bull Sale at the Alpine Angus Sale Complex at Rosewhite. The combined offering resulted in the successful sale of over 100 bulls and a top price of $8,500. We were also pleased to hold our inaugural Spring Bull Sale in 2016 with a top sale price of $10,000.
Media articles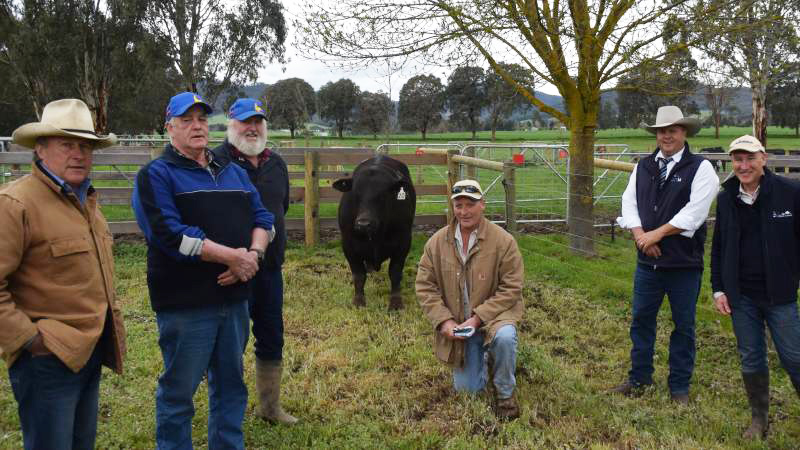 Alpine Angus 'Welcomes' new clients to spring 2016 sale | Stock & Land, Tuesday 11 October 2016
Alpine Angus – Total clearance of 48 bulls sold to $10,000, av $4730
THE sale held recently by Alpine Angus illustrated they have not only welcomed a large part of the Welcome Swallow herd but also their clientele.
With overcast skies and gumboot conditions underfoot, the large crowd was warmly welcomed by principal Jim Delany, who detailed Alpine's commitment to existing Welcome Swallow clients.
The sale was held on-property at Rosewhite and was their first spring offering. The 48 bull line-up consisted mainly Welcome Swallow bulls with seven Alpine bred bulls in the middle of the catalogue.
The sale enjoyed a full clearance of all lots and an average of $4730.
Mr Delany said: "The sale offered buyers the opportunity to buy quality bulls at affordable prices."
One former Welcome Swallow client to support the sale was Craig Ferguson who along with his brother Brett from Bowmans Forest bought four bulls.
The brothers were long time Welcome Swallow customers and purchased the top price Alpine bred bull for $10,000.
The top price was for Lot 20 Alpine Casino. The 23 month-old bull weighed 805 kilograms was by sire Ardrossan Casino C18. He had estimated breeding values of +5.0 for birth weight, +48 for 200-day weight, +81 for 400-day weight, +116 for 600-day weight, +4.8 for eye muscle area and +1.4 for intramuscular fat.
Mr Ferguson commented that having a closed herd meant that maternal qualities played an important part in the consideration of the top priced bull. His good frame and structural correctness appealed and the ability to buy locally also played a part.
They also bought the top priced Welcome Swallow Bull for $8000.
First time visitors Andrew Kilsdby and his son Stuart travelled from South Gippsland on the recommendation of John Webb Ware of the Mckinnon Project.
They walked away with four bulls ranging from $3500 to $4500 for their property Snizort South at Tarwin.
In closing, stud principal Mr Delany was rapt with efforts of his team and thanked Jim and Suzy Martin from Welcome Swallow for their ongoing assistance.
The sale was conducted Rodwells with Michael Glasser from GTSM running the auction.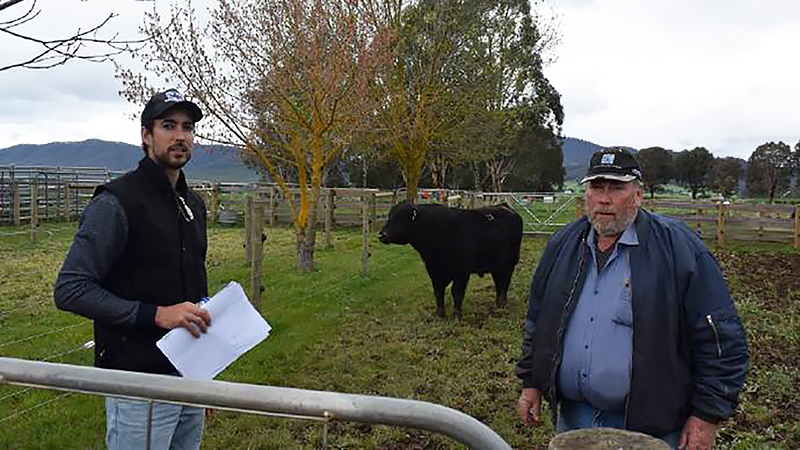 ---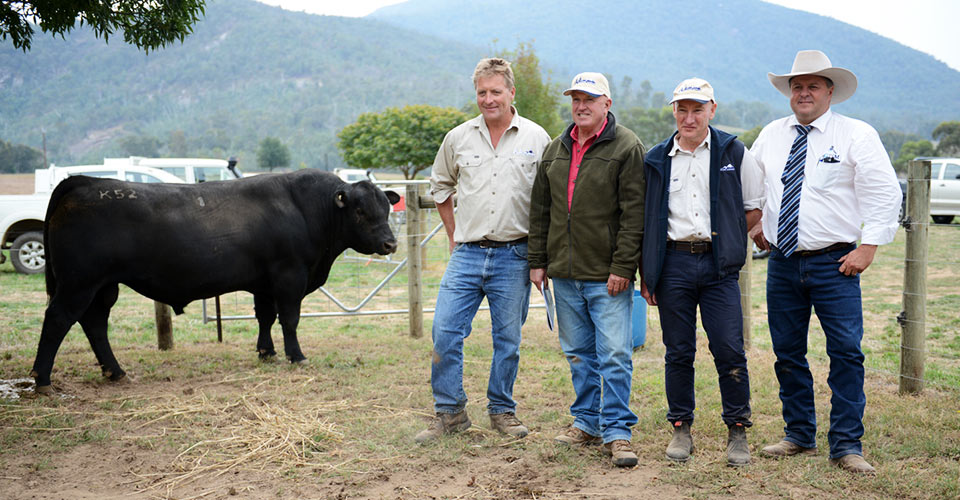 Big clearance for Alpine and Welcome Swallow at combined autumn sale | The Weekly Times, Wednesday 30 March 2016
CLEARING 100 bulls at Rosewhite was a solid result for Alpine Angus and Welcome Swallow Angus, as the two stud's client bases came together for the first time.
Prices reached a top of $8500 and just eight Angus bulls passed in, as those sold averaged $4305.
It was the final offering of Welcome Swallow bulls owned by Jim and Suzy Martin, as their remaining genetics and young stock on the ground, including the spring sale bulls, have been absorbed by Jim Delany at Alpine Angus.
Repeat Alpine buyer Jeff Brindley took the top-priced bull Alpine Full House K052, a Largo Full House F12 son weighing 870kg at two years of age.
Mr Brindley runs 380 cows at Lucyvale and was searching for another Full House son to use, having been impressed with the calves on the ground by his current bull from the same sire.
Vienna Investment Holdings at Tatong was the volume buyer, taking five bulls to a top price of $4500 and averaging $3000, while four bidders took home four bulls.
This included Allonby Angus from Guys Forest, that paid to the second highest price of $8000 and averaged $5500 for their load.
The acquisition of the Welcome Swallow stock, and offering the last of the Martin's bulls at the sale, was a big step up for Alpine Angus, according to principal Mr Delany.
"We usually sell about 60 bulls at this sale, and to sell 100 was a big step up — it reflects where we were working towards, but this has bought that forward by 12 to 18 months," he said.
---
An era ends as Welcome Swallow disperses its stud bulls | Stock & Land, Wednesday 30 March 2016
Angus – 102 of 108 bulls sold to $8500, av $4279
Charolais – 3 of 5 bulls sold to $3000, av $3000
DEVELOPMENT of good cattle stud stock was similar to coaching a football team, Alpine Angus principal Jim Delaney told a large gallery of buyers at this year's autumn sale.
He told buyers at the Rosewhite selling complex, stud manager Chris Oswin had "turned over" a few cows, similar to the way a coach swapped players in a bid to improve performance.
"He was particularly looking at temperament and structure issues – I think his work is reflected in what we see in our cattle," Mr Delaney said.
"They are sound, free moving cattle, plenty on length, long, clean fronted bulls, standing on strong pasterns that reflects the qualities of our female herd."
He said he felt the sale went very well, given the number of animals on offer, with all Alpine bulls cleared. Alpine joined with Welcome Swallow, which was clearing the first group of its bulls following the heifer dispersal by the Illalangi stud last September.
---
Sale details and bull sale lots