Alpine Angus Quality & Service
Reliability and consistency in the quality production of bulls and females is a hallmark of the commercial benefits offered by Alpine Angus. Alpine Angus offers personalised contact service, support and assistance to its clients.
Service is critical to our business
Quality control is the starting point. We have Johnes free MN3 status. All annual sales bulls are independently structurally assessed, semen and fertility tested, health checked, ear notch tested PI free, vaccinated for Pestivirus, Vibrosis and 7 in 1. Alpine Angus looks to sell all bulls sold at auction free from all known genetic defects, free either by test or pedigree from AM, AH, CA and DD.
We are constantly striving to improve the quality of our bulls and females. By placing significant emphasis on structure our bulls are well placed to work for longer and produce sound females who will breed on for our clients. Alpine Angus bulls have always come with our guarantee. With the merger of the Alpine Angus and Welcome Swallow programs, we have backed up our existing guarantee with the Welcome Swallow 3 year guarantee for all sale bulls.
From Spring 2015, we have been ably assisted in servicing our clients and Welcome Swallow clients with the experienced, energetic and enthusiastic involvement and support of Suzy and Jim Martin. We could not have contemplated the merger of the two programs without their continued active involvement and commitment to client service.
We really appreciate their enthusiasm, energy and ongoing involvement. They have been instrumental in maintaining client support and contact including organising the very successful Spring 2016 Industry event at Rosewhite, the continuation of earlier such events held at Illalangi.
Alpine Angus/Welcome Swallow
Alpine Angus and Welcome Swallow concluded an agreement to merge their programs in October 2015. The merger has delivered added genetic power and diversity to the Alpine Angus program. Welcome Swallow 2014 yearling bulls purchased by Alpine Angus represented the bulk of the offering at Alpine's first annual Spring Bull Sale at Rosewhite on 21 September 2016. Alpine Angus have purchased a selection of females at the Welcome Swallow Dispersal for use as donors in the Alpine ET program and all 54 Welcome Swallow 2015 drop embryo calves. The ET bull calves from the Deepwater program will form part of the Autumn 2017 and Spring 2017 Alpine bull sale offering. The female ET calves will join the females purchased at the Dispersal in making an ongoing WS genetic contribution to the Alpine program.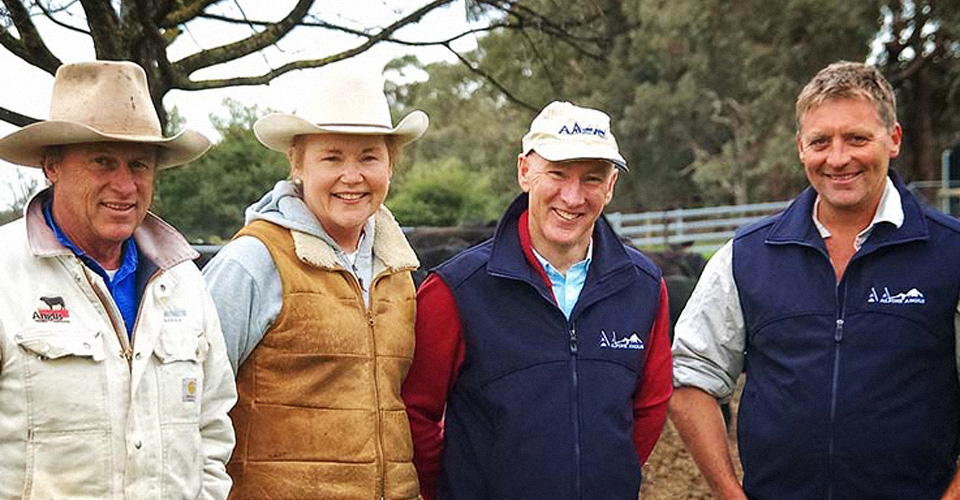 Accredited monitored herd
Alpine Angus is an accredited monitored MN3 herd under the national Johnes program. It is known for high quality low birth weight bulls with strong maternal and carcass traits. The cow herd is run tough, increasing selection pressure to promote fertility and durability. Bulls are selected with an emphasis on temperament and structural soundness, checked for fertility, vaccinated against vibrosis and pestivirus and are fully guaranteed. They are backed by Alpine Angus' commitment to providing quality support and service.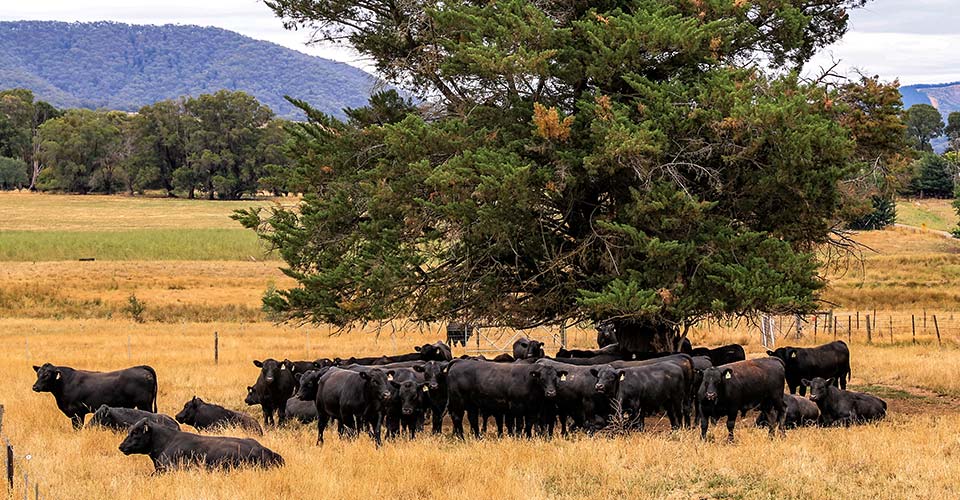 Awareness of client requirements
Alpine Angus aims to have a clear understanding of the needs of each client, a strong awareness of client requirements and the genetic features and overall composition and characteristics of individual client herds. Such information enables Alpine Angus to provide assistance and back up services to clients regarding cattle types and bloodlines that might best suit and enhance commercial programs.
After-sales support
Clients need to be able to rely on quality after sales back up – that is what we aim to provide. We stand behind our bulls 100%. All sale bulls are guaranteed for 3 years. We honour that same guarantee not only for the bulls we have sold at our own past Alpine sales but also for the bulls sold by Welcome Swallow at their sales prior to the Welcome Swallow dispersal. Integrity in all our dealings and clear and transparent communication are of the utmost importance. Our clients' problem is our problem to solve and we work with them to do so.
Alpine Angus looks to visit clients regularly, and to keep in touch with those who purchase bulls or females from the stud. We have a vital interest in seeing how the bulls and females that have been sold are producing and breeding on for our clients.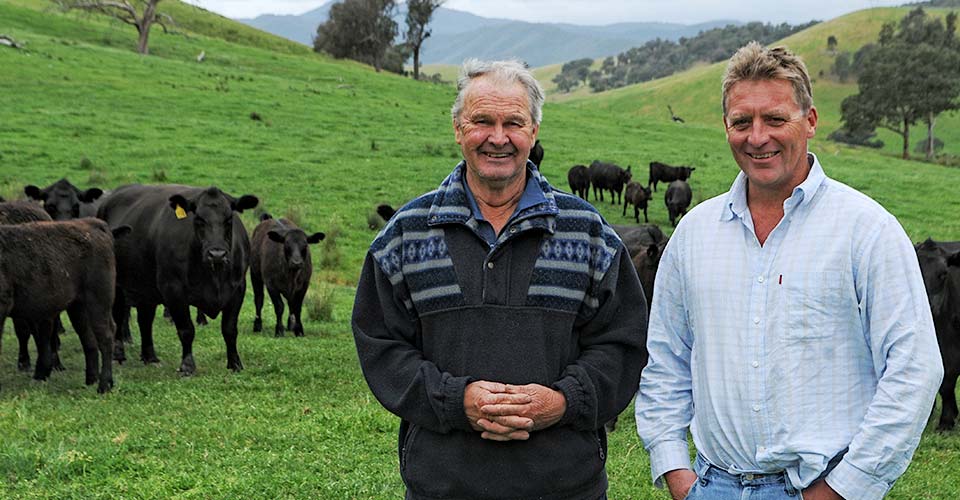 Local knowledge
The Alpine Angus farms are located in north-east Victoria. Many of our clients are local. That makes it easier for us to provide prompt quality service. We are assisted by strong relationships with surrounding agent networks, across the local valleys, into the mountains and beyond.