Autumn 2018 Sale Results
The 2018 Alpine Angus Autumn Bull Sale had a 100% clearance rate, with the successful sale of 93 bulls and a top price of $18,000.
Media articles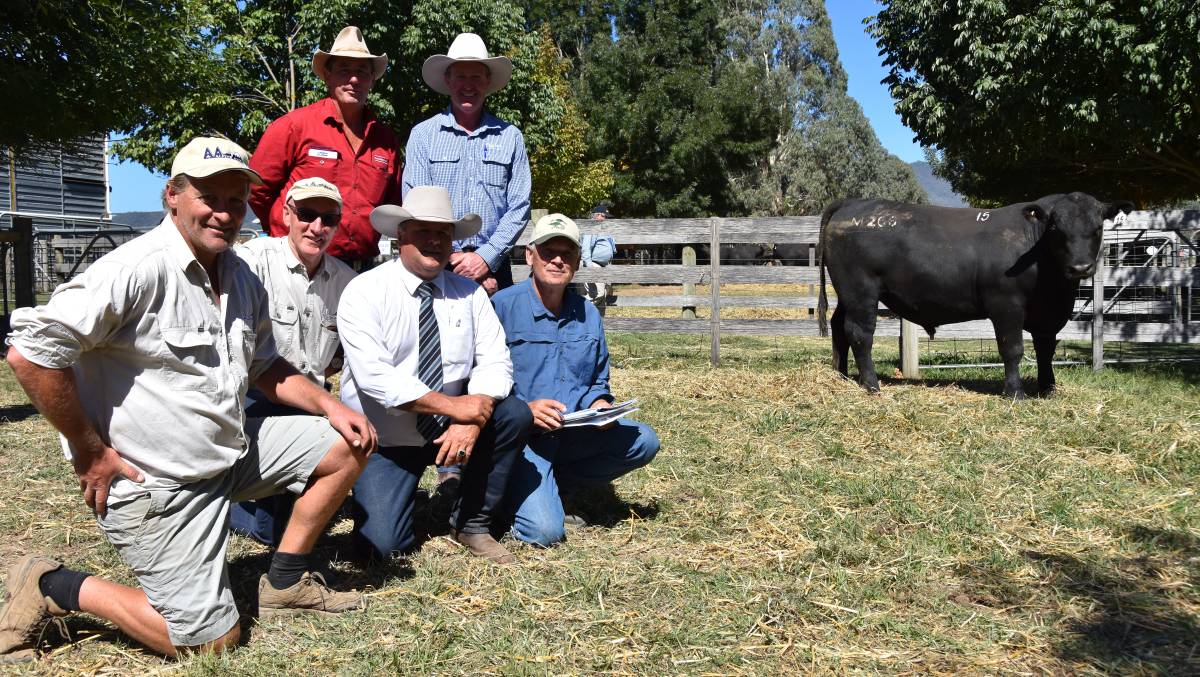 Alpine records another total clearance | Stock & Land, Wednesday 7 March 2018
*Total clearance of 93 bulls to a top of $18,000, av $6483
The Rosewhite-based stud offered 93 18-month-old to two year-old bulls, and thanks to the support of 88 registered buyers, sold the lot, to an average price of $6483 – up $1266 on last year's average.
The sale reached its top price of $18,000 at Lot 15 for an August 2016-drop bull named Alpine All In M176, which was purchased by Wes Hall, Bel Respiro, Greens Beach, Tasmania.
Mr Hall was a first-time buyer who was coincidentally in the state, and had been recommended Lot 15, which he said was an "outstanding bull".
"I had the bull recommended to me, but when I arrived I couldn't find him, so was looking around and found a bull that really stood out, and it turned out that bull was Lot 15 after all," Mr Hall said.
"I really liked his style. I was looking for a bull to go over cows, not heifers, and he had really good growth figures."
Its BreedPlan figures were +4.6 kilograms birth weight, +53kg 200-day weight, +100kg 400-day weight, +137kg 600-day weight, and an eye muscle area of +4.8 square centimetres.
"I bought a bull from Te Mania Angus a few years ago and this bull had similar qualities, so I'm hoping he'll keep the herd consistent," he said.
Mr Hall was hoping to take home two bulls, the second being Lot 80, a full brother of Lot 15, Alpine Elevator M269, but was outbid by Dennis Heywood, Glenlock, Everton.
Mr Hall was returning to buy from Alpine after a six-year hiatus and had also tried to purchase Lot 15, the top-priced bull, but instead went home with the two equal second top-priced lots, 80 and 51, which each made $12,000, as well as one other to average $11,000.
"I liked their type, the bone in them and their softness and their figures were all good too," Mr Hall said.
"They will be joined to cows in early June, and I'm hoping they will add evenness and type to the herd."
Sharp Fullgrabe agent Graeme Fullgrabe purchased two bulls with clients Louis and Sharon Pendergast, Benambra, who were also return buyers.
Mr Fullgrabe also bought on behalf of two new Alpine clients, Terry Watt, Hinnomunjie Station, Omeo, and Craig and Lizzy Risleys, Bairnsdale, who each bought one bull.
"There wasn't a bad bull in the bunch. You could take any of the bulls home and be happy," Mr Fullgrabe said.
Glasser Total Sales Management auctioneer Michael Glasser said Alpine had officially "come of age", following another successful sale.
"It was an incredibly strong sale, which was well-deserved after all of their hard work," Mr Glasser said.
"It was an even lineup of bulls, whose low birth weight to growth spread was fantastic."
Alpine manager Chris Oswin said he was "ecstatic" with the result of the sale.
"It's a strong year to sell bulls but we were really thankful for the local support we had, from people who know us and our bulls," Mr Oswin said.
"The bulls are sound and quiet and we've worked to find a balance between numbers and phenotype, and we think we're doing well with both."
He said the top-priced bull was a standout to him from the start, which is why they kept one of his full brothers, and semen too.
---
Sale details and bull sale lots