Alpine Angus Breeding Philosophy
The objective of Alpine Angus is to produce consistently high-quality bulls and females from diverse genetic backgrounds. Using selected combinations from established reliable proven cow families combined with leading sires, Alpine Angus aims to produce structurally sound cattle of good temperament, high fertility, moderate birth weight and high 400 and 600 day growth.
The stud strives to produce bulls and females that will breed on for those who purchase them, females that will calve easily, will produce a calf year-in-year-out, are easy doing and will do a good job of rearing their calves irrespective of the seasonal conditions.
The Alpine Angus program is focused upon breeding bulls that are structurally sound and backed with breed leading EBVs, bulls that will lift the performance of the cow herds which they service, are moderate for birth but with good growth and carcass, producing calves that are strong for both EMA and marbling.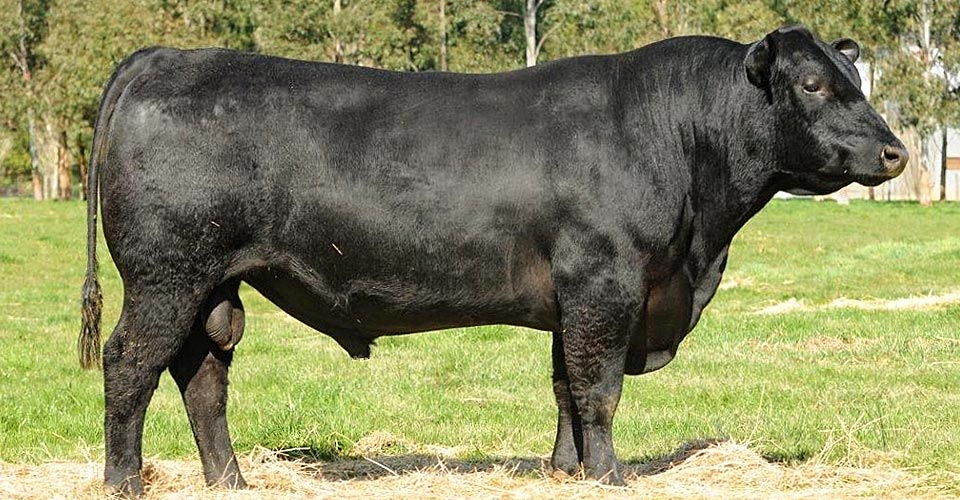 Genetics
Cow families are at the heart of any successful stud program. Alpine Angus was fortunate to secure some outstanding foundation females shortly after the stud was established. These included TeMania Lowan VTMM118, a prolific breeder, a very structurally sound female and dam of 186 recorded progeny.
Another foundation female and top breeding cow, Ardrossan Wilcoola NAQQ6 earned the right to live at Alpine Angus for life. Her 97 recorded progeny include CGKX40, CGKZ11, and CGKX13. To the last, Q6 remained a strong bodied and structurally sound female.
Little Meadows Edwina, WGAX3 is an extremely consistent breeding cow whose progeny feature strongly in the Alpine Angus herd. Her son, Alpine Account, CGKA50 topped the 2007 on-farm sale. Alpine Account is the grand sire of Irelands Galaxy, sold in March 2013 for a reported Australian record price of $117,500.
The Grange WF0180, a direct daughter of the acclaimed US cow, Davis YR Blackbird 558H by New Dimension 7127 represents another leading cow family forming part of the Alpine Angus breeding herd. Her daughter, CGKC84, by TeMania Unlimited is a current Alpine Angus donor.
TeMania Lowan VTMR133 is another cow who played a pivotal role in the establishment phase of the Alpine Angus herd. A prolific producer of quality bulls, R133 and her daughters have produced stud sires for Alpine, Vermont and Te Mania. Her son, Alpine Bradman, CGKB31 topped the 2008 sale.
In 2013, Alpine Angus purchased Carabar Black Cap Mary QHGA46 and Carabar Black Cap QHEB37, half sisters from the Booroomooka Tracy T4 cow family, of which Carabar Docklands is a well known stud sire. Alpine was also fortunate, in 2013, to purchase Lawson's Predestined VLYB770, the dam of Lawson's Novak. These cows are incorporated into the Alpine Angus donor program.
At the July 2015 Welcome Swallow female dispersal, Alpine purchased Welcome Swallow Aberdeen Jilt CMAF277, an outstanding daughter of Mohen Jilt who has contributed so much to the success of the Welcome Swallow program. At the same time, Alpine purchased another 4 top quality Welcome Swallow females. These females together with female component of the 60 ET calves purchased by Alpine from the Welcome Swallow co-operator herd as part of the merger of the two programs, represent an infusion of the best of Welcome Swallow genetics. These purchases put Alpine Angus in a very strong position to carry forward the Welcome Swallow genetics as an integral part of the Alpine program.