The Alpine Angus Story
Alpine Angus farms over 1,400 acres in North-East Victoria. The stud and farming operation is managed by Chris Oswin.
The Alpine Angus herd is run on 850 acres owned by the Delany family; 240 acres at Porepunkah at the foot of Mount Buffalo and 610 acres, 15 km away at Rosewhite. Land is leased at Rosewhite and Alpine Angus cattle are also run on land near Benalla bringing the area farmed to around 1500 acres.
Alpine Angus was established in 1998 by Jim and Clare Delany with the purchase of Pales Right Online, a son of Premier Independence and a junior champion bull at the Sydney show. The bull arrived before Alpine Angus had taken possession of the initial 150 acres of farm land purchased at Porepunkah. From this rather irregular start to the stud industry, Alpine moved quickly to secure females from established families including TeMania Lowan VTMM118, Ardrossan Wilcoola NAQQ6, Ardrossan Royal Lass NAQR44, Carcass Plus Jedda R31 and by purchasing a number of embryo packages. These early purchases and the later steady stream of females bringing in new families including TeMania Lowan R133, TeMania Beeac Ythanbrae New Design 036W200 and groups of females purchased from the Woolamai and Cudgell Creek Studs enabled Alpine to hold its first on farm bull and female sale at Rosewhite in Autumn of 2004. That sale saw the top priced bull, Alpine Extra Special, CGKX18, an 036 son out of NAQQ6 sell to Vermont Angus as a stud sire. That first sale set the pattern for the successful sales that have followed.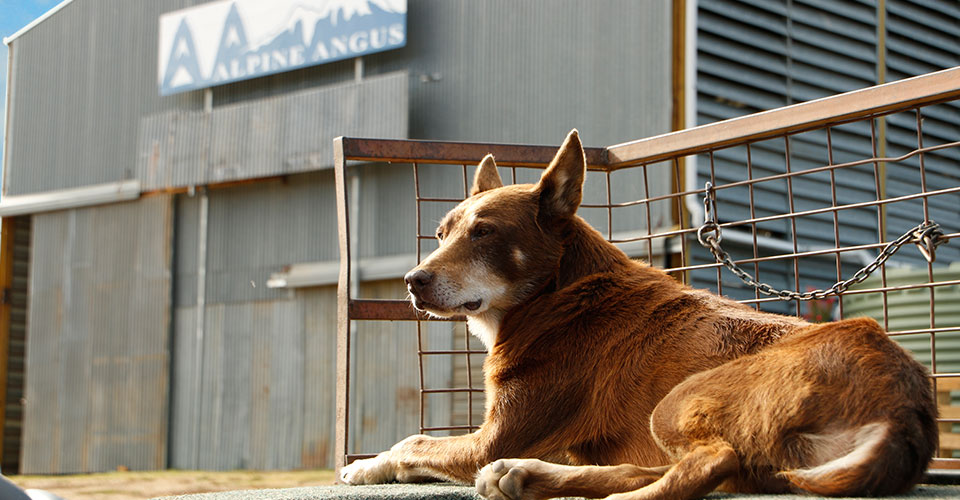 The infusion of Alpine Angus genetics into other stud herds, both established and emerging has continued as reflects the strength of the Alpine Angus herd, its diversity and its marketability.
Alpine Angus is well known for breeding consistent quality bulls with an emphasis on low birth weight, high growth rate and strong maternal and carcass traits. All bulls are checked for fertility, vaccinated against vibriosisosis and pestivirus and are fully guaranteed.
From the outset the pattern of investment and reinvestment in new and quality genetics has continued, using selected AI sires backed up by quality herd sires with strong genetics, leading performance and sound structure and temperament for use over the Alpine female herd.
Over the years Alpine Angus has built and maintained a genetically broad based and consistently high-quality herd. The stud runs a core herd of 400 plus breeding age females with about 2/3 spring and 1/3 autumn calving. Each year, Alpine Angus holds its own on-farm bull sale at Rosewhite in autumn and, from 2016, in spring. During the balance of the year bulls and females are available for private sale.
Jim Delany continues to be responsible for overall business strategy and management working closely with Chris Oswin in bull and genetic selection and herd development. Following the late 2015 merger of the Welcome Swallow and Alpine programs Suzy Martin and the "other Jim" (Martin) are important and active participants in the Alpine program; maintaining client contact and service, helping to organise client events and marketing and, together with Chris and Jim, being involved in key genetic decisions.
Chris and Elissa live at Porepunkah with Chris managing the stud and Elissa involved in the very busy Kilnhouse accommodation business. On farm accommodation is available at the Kilnhouses (contact Elissa on 0400 733 170 or Clare on 0408 553 332 for details or visit The Kilns website).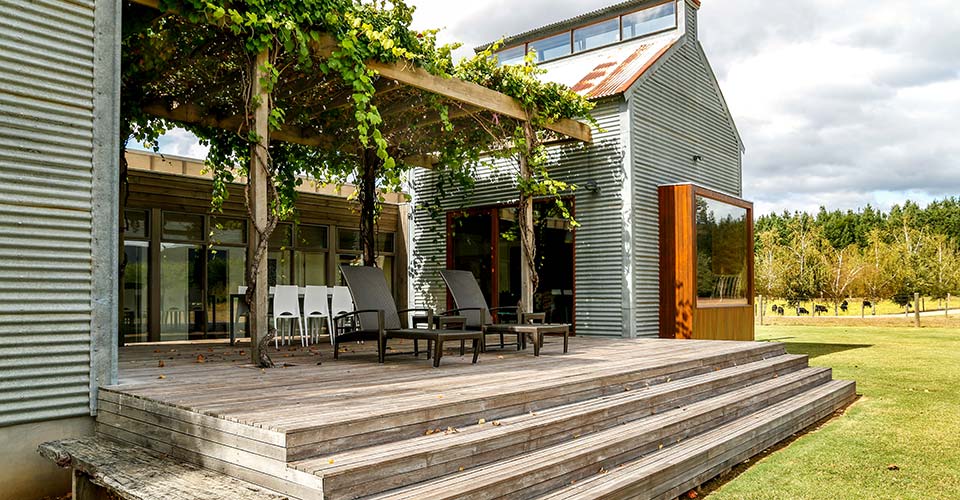 Tim and Melissa Brown live at the Rosewhite property where the Alpine sale complex is located. Jim, Chris and Tim work closely together on a day to day basis to ensure the success of the Alpine Angus business. As well as making sure that Alpine Angus works effectively to meet the needs of past Alpine Angus clients, from 2015 each of Chris, Tim and Jim have worked with Jim & Suzy Martin to make sure the former Welcome Swallow clients continue to enjoy the same level of support and back-up as they experienced prior to the sale of Illalangi.
At Alpine Angus, ongoing relationships with clients, stock agents and contractor service providers are highly valued. Alpine Angus works closely with local organisations including Tafco, conducting and hosting field days. The stud is very fortunate to have strong local support throughout the Alpine region. That client support and the success of clients using Alpine Angus bulls can be seen in local sales including the regular Wodonga sales, the Paull & Scollard Myrtleford weaner sale on the Friday before the March long weekend and in the Omeo Mountain Calf sales in the week after the March long weekend. The key to the success of Alpine Angus is the continued and loyal support of commercial breeders, including those who have "migrated" from Welcome Swallow.
Alpine Angus takes part in Stock and Land Beef Week, usually in the last week of January with catering by the Rosewhite CWA. In most years an open day is held at Rosewhite on the Friday after the March long weekend Myrtleford Calf Sale with a BBQ and a selection of local wines available. The annual autumn bull sale (from 2016, 100 HBR and APR bulls) takes place at Rosewhite in March. From 2016 an annual spring sale (50 bulls) is also held on farm at Rosewhite. The agents for the annual sales are Paull & Scollard (Dan Ivone and Steven Paull) and Rodwells (Mick Curtis). Paull & Scollard have been the part of the annual Alpine Sales from 2004. Rodwells (Mick Curtis) were previously part of the Welcome Swallow sales program and have been conjunctional agents with Paull and Scollard at Alpine since late 2015. The auctioneer is Michael Glasser. Michael has been the auctioneer at Alpine Angus since 2004 and also sold at Welcome Swallow up to the 2015 dispersal.
Breeding stud cattle requires careful herd monitoring, detailed performance recording and particular attention to animal health and welfare. Alpine Angus is well assisted and supported by Andrew Coulson from Ovens and Kiewa Veterinary Clinic, Myrtleford. The stud engages specialist contractors to assist with embryo work, AI, scanning and for independent structural assessment of sale bulls. The contribution by those contractors and others who are involved in such diverse farm activities as fertiliser application and assistance, with silage production is important for the continued success of the Alpine Angus business.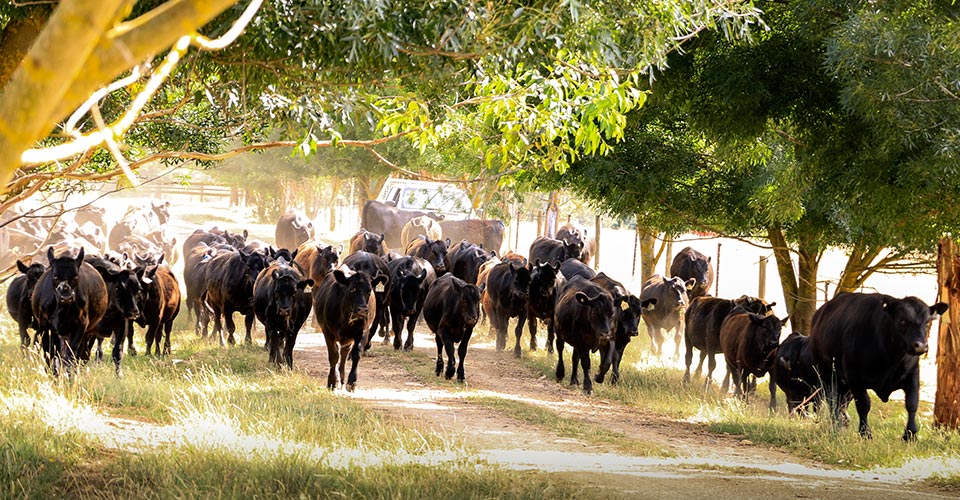 The aim of Alpine Angus is to help Alpine Angus clients to enhance the performance and profitability of their herds with the infusion of Alpine genetics selected and targeted to suit their particular needs and requirements. The Alpine Angus team is confident that those who purchase bulls and females bred and grown at Alpine will enjoy both success and ongoing service.
In Spring 2015, a new chapter began for Alpine Angus with the merger of the Alpine Angus and Welcome Swallow programs. As part of the "flight" of the Swallows to Alpine, the 2016 Alpine Angus Autumn bull sale was followed immediately at Rosewhite by the Welcome Swallow Autumn bull sale. Alpine Angus has purchased half of the young Swallow K bulls offered a selection of these bulls, together with Alpine Angus bred bulls at the inaugural Alpine Angus Spring bull sale in September 2016.
Suzy and Jim Martin ran an outstanding Angus program at Illalangi over 21 years prior to their dispersal sale in mid 2015. They are both well known for providing excellent service to their loyal clients, including great backup and after sale service. Since late 2015 Suzy and Jim have been vitally involved in the Alpine Angus program. The influx of Welcome Swallow genetics has been accompanied by the experience and strengths of Suzy and Jim in marketing and client liaison. Suzy and Jim have joined with Chris, Tim and Jim in providing great back-up and after sales service.
All sale bulls sold by Alpine are now sold with the same 3 year guarantee traditionally offered by Welcome Swallow. Alpine Angus has purchased Welcome Swallow's Spring 2015 ET calves sourced from the Welcome Swallow co-operator herd. In addition to Alpine's own genetics, from Spring 2015, Alpine Angus has been breeding on from the core of the Welcome Swallow herd.
Alpine Angus was fortunate to secure leased country in the Benalla area in late 2015 and further leased land near Rosewhite to facilitate its expansion.
Chris, Jim and Tim enjoy working closely with Suzy and the "other Jim" at Alpine Angus.