The Swallow Has Landed at Alpine
Alpine Angus and Welcome Swallow concluded an agreement to merge their programs in October 2015 after the sale of the property 'Illalangi' which ran the Welcome Swallow herd and its subsequent dispersal. At the time the principals of the two programs expressed optimism and enthusiasm for the merger. Hard work and dedication by all, driven on the ground by Alpine manager Chris Oswin has seen the merger become a resounding success.
Alpine and Welcome Swallow are an easy fit as there is a closely shared fundamental mind set about customer service and genetics. Jim and I are delighted that the merger allows us to have a continued active involvement in the Angus seedstock industry in general and with our clients in particular.

Welcome Swallow principal – Suzy Martin
The merger opens an exciting new chapter for Alpine Angus. We have revamped our logo to reflect the merger and our joint commitment to it.

Alpine Angus principal – Jim Delany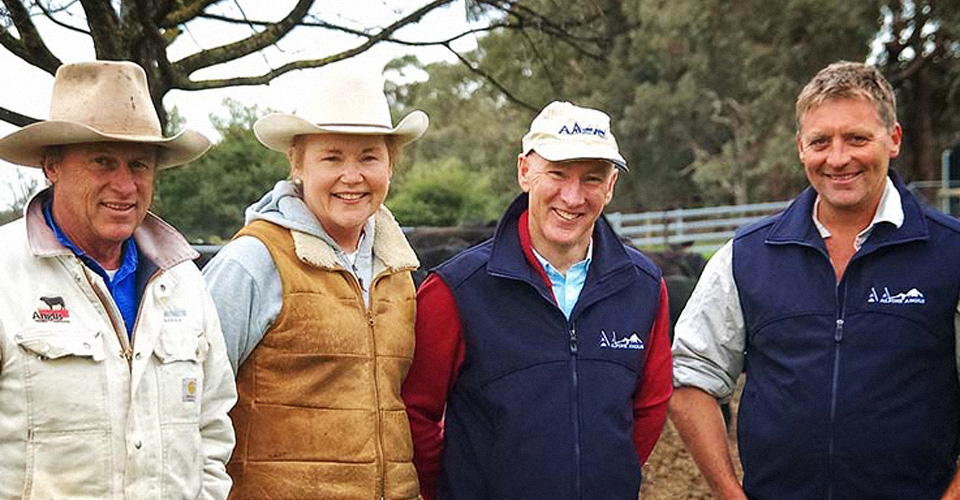 Of special importance to Jim & Suzy is that Alpine Angus, as part of the terms of the merger, embraced in full all of Welcome Swallow's warranty and back up service policies. In 2017 that commitment continues and the relationship between Jim, Chris, Suzy and Jim is a very healthy and co-operative one, all working together to deliver great cattle and great service on identical terms to the combined Alpine and Welcome Swallow client base.
Importantly, the merger has also delivered added genetic power and diversity to the Alpine program. Alpine purchased a selection of females at the Welcome Swallow Dispersal for use as donors in the Alpine ET program and all 54 Welcome Swallow 2015 drop embryo calves. These purchases combine to ensure Alpine has an unrivalled representation of Welcome Swallow genetics from the very "Heart of the Welcome Swallow Herd".
The 100% clearance record at the combined autumn 2016 and spring 2016 spring sales, a sale dominated by WS genetics but topped by an Alpine bred bull are testament to the success of the merger.
Clearly the merger has assembled a very strong team at Alpine Angus. For Alpine clients it is business as usual with Alpine Manager Chris Oswin being the main point of contact. Jim and Suzy have continued to service the Welcome Swallow clients working in with Chris whilst assisting Chris and Jim Delany with marketing and genetic development. "This is a true merger not just the sale of some genetics" says Suzy.
To accommodate the expansion of the Alpine Angus herd, Alpine leased additional land near Benalla and at Rosewhite.