Autumn 2017 Sale Results
The 2017 Alpine Angus/Welcome Swallow Autumn Bull Sale had a 100% clearance rate, with the successful sale of 93 bulls and a top price of $12,000.
Media articles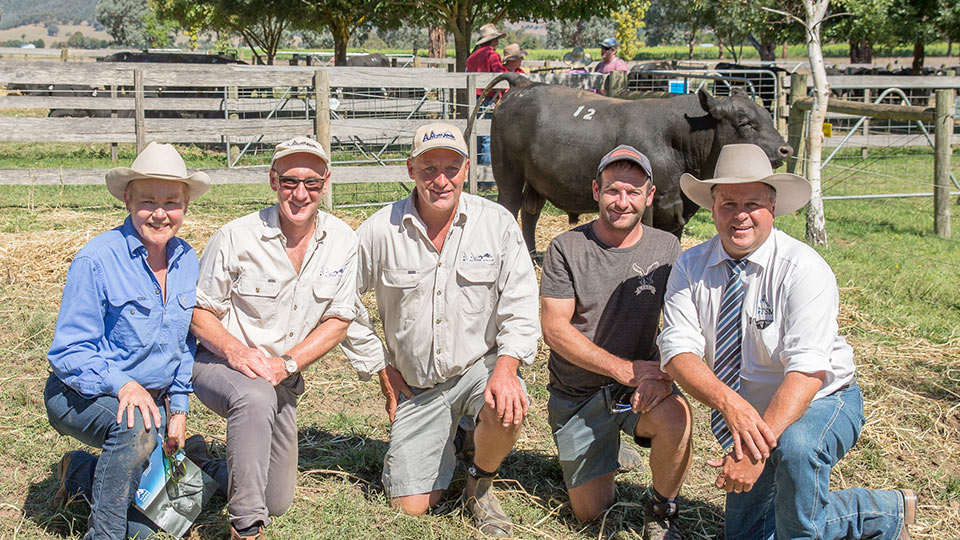 Total clearance as Alpine tops $12,000 | Stock & Land, Thursday 16 March 2017
THIS year's Alpine Angus on-property bull sale at Rosewhite was a packed house with almost 90 registered bidders.
All 93 bulls sold under the hammer to a top of $12,000 twice, and an average price of $5217.
This reflects a strong result when compared to last year, where the top was $8500 and average $4305.
In welcoming the crowd, principal Jim Delany highlighted continued support of Welcome Swallow team of Jim and Suzy Martin.
He also complimented his management team of Chris Oswin and Tim Brown on their joining selections that delivered a sale offering with strong structural scores.
The sale opened with 10 heavier Autumn drop bulls ranging in weight from 790-885 kilograms, and selling between $4000 to an equal sale top of $12000 for Alpine Equator L004.
At 25 months, Equator L004 was sired by Ardrossan Equator and weighed 845kg with a scrotal circumference of 43cm.
He had estimated breeding values of +5.1 for birth weight, +48 for 200-day weight, +89 for 400-day weight, +123 for 600-day weight, +6.3 for eye muscle area and +1.4 for intramuscular fat.
It was bought by Jock and Brooke Hislop, JB Angus Stud, Naracoorte, SA.
Jock Hislop commented on how beautifully the bull moved and the quality of his figures.;
The JB Angus stud is no stranger to Alpine sires, as they already have Alpine Jagger in use at their stud.
Moving then to a run of younger spring drop bulls, the equal top price was quickly found for lot 12 Alpine All In L109, again reaching $12,000 and purchased by Jake Faithfull, Corryong.
Sired by Deer Valley All In 2138, the 650kg bull carried high growth figures and was in top one per cent on the domestic index at +$132.
Mr Faithfull was attracted to the bull's softness, muscling and quality of his estimated breeding values, measuring +5.0 for birth weight, +61 for 200-day weight, +111 for 400-day weight, +142 for 600-day weight, +6.6 for eye muscle area and +1.7 for intramuscular fat.
The second top price of $9000 was again shared twice, firstly for lot 16, a bull sired by Lawsons Novak E313 sold to Arden Angus, Adelong, and lot 59, this time sired by Conneally Earnan 076E, bought by Malcolm Neilson.
Volume buyers included the Swan Brothers, Meninge, SA, buying four to average $5000, repeat buyers Allonby Angus, Guys Forest, also bought four to an average of $6000 and R & B Sarties also bought four bulls.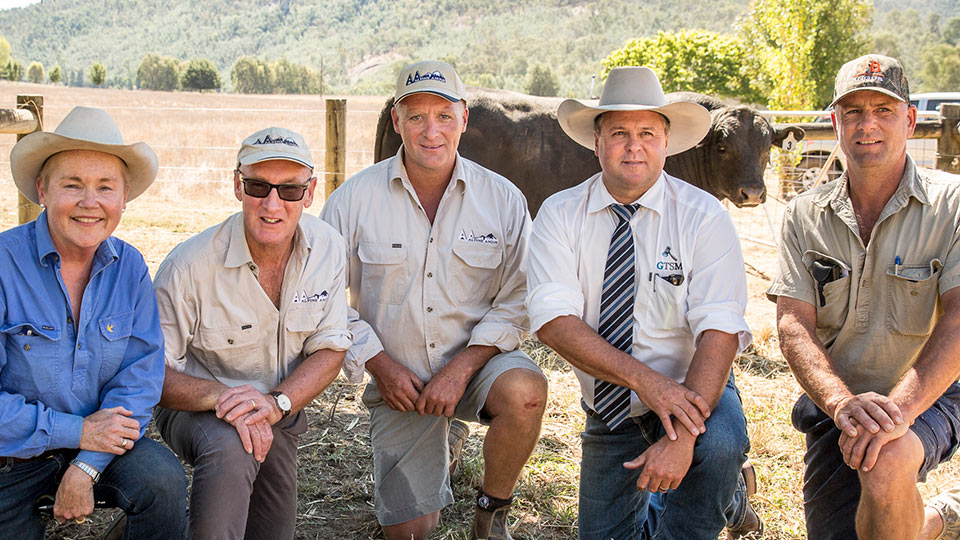 The sale had obvious strong north eastern support but of the 44 successful there was also buyers from Gippsland, Southern NSW and SA.
A clearly happy stud principal Jim Delany said, "I was really pleased the level of buyer support, with a lot of repeat business along with some new clients, and I'd like to think this reflects the quality of our bulls and the back-up we provide."
The sale was a good opportunity for value hunters with 40 bulls selling under $5000, but to highlight the depth of the catalogue the sale closed strongly with another quality Deer Vally son selling for $7500
The sale was conducted by Rodwells and Paull & Scollard with Michael Glasser from GTSM the auctioneer.
---
Sale details and bull sale lots