Spring 2018 Sale Results
The 2018 Alpine Angus Spring Bull Sale had a 100% clearance rate, with the successful sale of 49 bulls and a top price of $16,000.
Media articles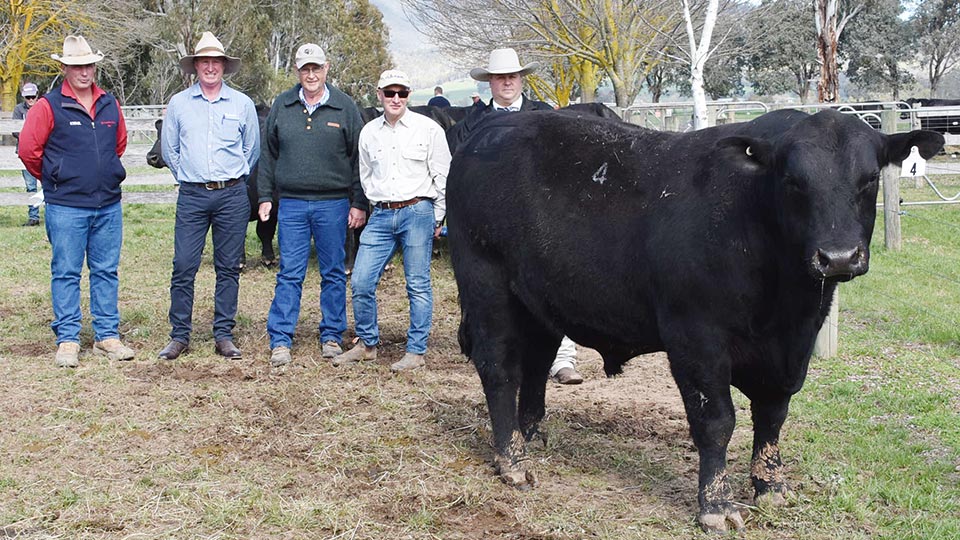 Alpine Angus tops at $16,000 for $5765 ave | Stock & Land, Wednesday 18 September 2018
A large crowd gathered at Rosewhite for the 2018 Alpine Angus on property spring bull sale last Wednesday.
The draft of 49 bulls described by numerous buyers as one of the best spring drafts at Alpine Angus were well received.
A complete clearance was achieved with all of the 49 bulls offered sold averaging $5765 with a top of $16,000 reached.
Stuart Bewling, Bewmont Angus, Boorowa parted with the top money for Alpine Jaeger M339 an embryo transfer son of Coonamble Jaeger J98 out of Coonamble F152 a Te Mania Infinity 04 379 daughter.
Weighing in at 885 kilograms the 23 month old bull was in the top 20 per cent of the Angus breed and top 15 pc for 400 day growth.
Mr Bewling explained he was attracted to M339 for his phenotype, muscle pattern, spread of breedplan figures and balance of those figures.
The lead pen of the younger autumn 2017 born bulls attracted strong interest with both the second and third tops coming from this age drop.
The $12,000 second top price was Alpine Discovery N067 an ET son of V A R Discovery 2240 out of Ardrossan Evergreen C94 an Ardrossan Admiral A2 daughter was purchased by Brindstock Pty Ltd, Lucyvale.
The April drop bull weighed in at 695kg and was in the top 1 pc for 200, 400, and 600 day growth as well as carcase weight and in the top 5 pc for milk, retail beef yield and all Angus breedplan selection indicies.
Bowmont Angus, Tatyoon, paid $10,000 for the third top price bull a March 2017 born son of Coonamble Hector H249. Alpine Angus have retained a semen interest for in herd use in the 710kg youngster.
Leading the volume buyers were long term clients Bowman's Forest Pty Ltd. The Ferguson family from Bowman's Forest put together an excellent selection of three bulls for an average of $8000 paying to a top of $9000 on two occasions. Bowman's Forest although the losing bidder on Lot 4 went on bidding to secure his full brother Lot 5 Alpine Jaeger M351 M339 as well as Alpine Gatsby M221 a 24 month old son of Milwillah Gatsby G279 who was in the top 10 pc for 200 and 400 day growth, carcase weight, and intramuscular fat as well as the only Texas Mount K2 son in the sale all three are on their way to Bowman's Forest to perform duties in the highly regarded Ferguson herd.
Another long term client Flanigan Pastoral Company, Myrhee, also bought well selecting three bulls for a $4166 average.
Overall Jim Delany Principal of Alpine Angus summed up the day. "This has been an excellent day, a large crowd in attended and the bulls presented exceptionally well." Mr Delany said.
The sale was conducted by Rodwells Euroa, and Paull & Scollard Myrtleford with guest Auctioneer Michael Glasser, GTSM conducting proceedings.
Photo and article reproduced with the permission of Stock & Land.
---
Sale details and bull sale lots