Autumn 2019 Sale Results
The 2019 Alpine Angus Autumn Bull Sale had a successful sale of 70 bulls and a top price of $10,000.
Media articles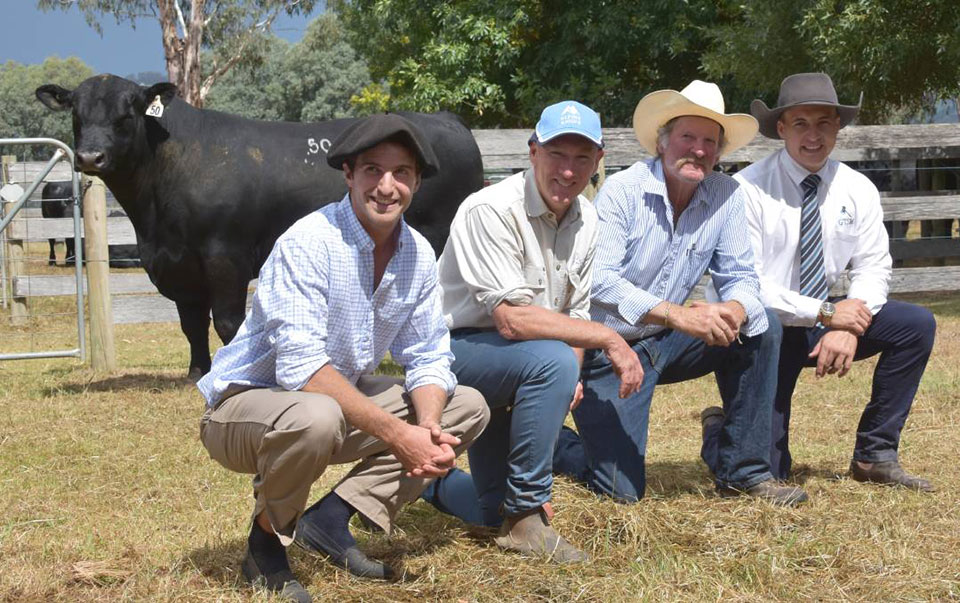 Alpine Angus autumn sale supported strongly by high country buyers | Stock & Land, Wednesday 6 March 2019
*70 of 90 bulls sold to $10,000 (three times), av $5257
BUYERS in attendance at the Alpine Angus autumn bull sale held on property at Rosewhite were all delighted to be greeted by rain at the completion of proceedings.
A top price of $10,000 was reached on three separate occasions throughout the catalogue.
Alpine Junior N021, a son of Coonamble Junior J226 out of donor dam Lawsons Predestined B770, who is also the dam of popular AI sire Lawsons Novak, sold to Kent Connley, Benambra, for the equal top price of $10,000.
Mr Connley was drawn to Junior N021 due to his structural soundness.
"I love the way he moves, he is structurally almost perfect," Mr Connley said.
"I plan to use him over stud cows purchased at dispersal sales in the spring in order to breed bulls for my own requirements."
Equalled but not beaten, John Canaban, Mansfield, also paid the equal top money of $10,000 for his pick of the catalogue, Alpine Hero N042.
Sired by Coonamble H176 out of the Wilcoola cow family, Mr Canaban came to buy Hero N042 after picking him from the catalogue for his pedigree and structural assessment.
"He had everything going for him, docile, structurally sound, good feet, well made with a good muscle pattern and softness," Mr Canaban said.
Not to be out done, Rod Newnham, Euroa, also paid the equal top price of $10,000 for Alpine Hector N006, a Coonamble Hector H249 son out of the Jedda cow family.
Looking to improve the structure of his herd, Mr Newnham purchased two Hector sons with all 5s on their structural assessments, paying $4500 for the second bull.
Amongst the volume buyers, Rob Muller, Devils Creek, purchased three bulls for an average of $4833, paying to a top of $6000.
The sale was conducted by Paull & Scollard Landmark and Rodwells with guest auctioneer Lincoln McKinley, GTSM, conducting proceedings.
---
Sale details and bull sale lots