Royal Melbourne Show Carcase Competition
Jess Oats, a Year 11 student at Rutherglen High School, swept the pool at the Royal Melbourne Show Carcase Competition in September with a steer donated by Alpine Angus.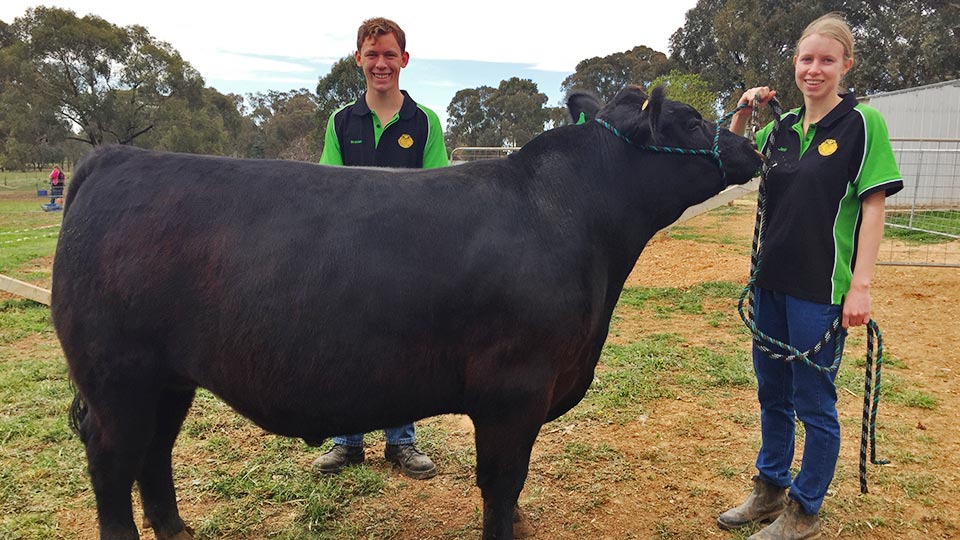 Jess's steer took out first prize in the Export Carcase division, the Marcus Oldham College trophy for Champion School Carcase and the Grand Champion Carcase award.
Alpine Angus could not be prouder of Jess's effort.
There were 89 steers in the export division and 195 entries overall. The winning steer Alpine Black Jack M247, a purebred Angus steer sired by Sterita Park Black Jack SPLJ231, scooped the pool.
Jess took delivery of M247 in May and was responsible for the breaking in and preparation of M247 at the school for the four months leading up to the show.
Out of the 89 entries in the export division, M247's carcase achieved maximum points for P8 & Rib Fat depth, Eye Muscle and Yield. Points awarded for eating quality were in the top handful of steers.
M247's MSA marble score was a standout of the competition. n this section this steer graded 820 compared to an average of 420 for the 89 export carcases assessed. The next best grading of 770 was the only one in the 700s! Roughly a quarter of these entries were Angus and they averaged 530 compared to M247s 820.
"M247 was a cracking animal. He was structurally fantastic and you could see he would carry the carcase really well. We are grateful that a local stud like Alpine Angus give back to the industry and support the development of young people in agriculture" says Ron Webb, Rutherglen High School Agriculture teacher.
The sire of M247, Sterita Park Black Jack is an Alpine Angus owned herdbull, with its semen marketed by ABS Australia. Alpine selected Black Jack for his strong body type and conformation, strong maternal pedigree and excellent eye muscle. The carcase result continued a good run for Black Jack with his sons selling well at the Alpine Spring Bull Sale and he also produced the $18,000 second top priced bull at the Rennylea Autumn Bull Sale.
Chris Oswin Manager of Alpine Angus "Black Jack excels at producing high yielding, large eye muscle cattle so it made sense to provide Jess with a Black Jack steer for this year's Royal Melbourne Show carcase event. M247 sure hit the mark scoring maximum points for EMA and yield, but the thing that really stood out to me in the scoring was just how much better than the rest this steer scored under the MSA system for Marbling."
Alpine Angus congratulates Jess, her teachers and school for the work they put in in preparation for this prestigious competition.