Spring 2019 Sale Results
Alpine's investment delivers!
100% clearance – 36/36 bulls sold
Top price $10,000
Average $7,057
Alpine Angus enjoyed a great sale result last Wednesday, 11 September, at the Alpine Angus sale complex at Rosewhite. With a top price of $10,000 and a sale average of $7,057, clearly there was a strong demand for the genetics on offer right through the sale.
The top priced bull in the sale was Lot 2, Alpine Jackpot N329, who sold to the Ferguson family of Bowman's Forest – a long time Welcome Swallow, now Alpine Angus, client! N329 has EBVs that represent low birth with explosive growth with +3.8 for birth, +91 for 400 day and a big +72 for carcase weight. The Fergusons also secured two further bulls, Lot 3, Alpine Black Jack N214, for $9,000 and Lot 25, Alpine Full House N276.
"They were probably the best line up of bulls we have seen. … Manager, Chris Oswin, has done a very good job with breeding and feeding and they were quite impressive", Craig Ferguson said.
Alpine Angus were proud to be the first in Australia to offer sons of the renowned US Angus sire Sitz Investment 660Z. The Sitz herd sits in the elite of seed stock producers in the US. Investment himself is a proven sire who excels at producing light born calves that grow like stink! With EBVs combining a low birth weight of +3.6, with explosive growth and carcase weight in the top 1 percent of the breed. These qualities fit the Alpine breeding program which seeks to maximise profits for our clients by maximising the number of live calves born and the number of the kilograms they can grow up to turn off! Clearly, Alpine clients agree with this philosophy as the Investment sons averaged $8,250.
Other multiple purchase repeat buyers included Craig Stevenson, from Lurg, who purchased 2 bulls, Lot 8, Alpine Investment P006, for $8,000 and Lot 28, Alpine Discovery N283, for $9,000, 2 bulls to Tom Groggin Station and 2 bulls to Jayne Haygarth, from Violet Town.
New buyers were also very active, including 2 bulls sold to R J Vinge, from Berringama.
"The sale result we achieved today is a direct reflection of how well the bulls presented and the structural integrity and high performance EBVs that backed them up. A very pleasing result, rewarding the hard work of Chris Oswin and the rest of the Alpine team. We would like to thank our clients and all registered buyers and the agents for their support in helping us to deliver this solid result", Jim Delany, Alpine principal.
Bull buyers will get their next opportunity to purchase an Alpine bull when Alpine present 110 HBR and APR bulls at the 2020 Alpine Angus autumn bull sale on Tuesday, 3 March 2020, at the Alpine sale complex at Rosewhite at 1 pm.
Media articles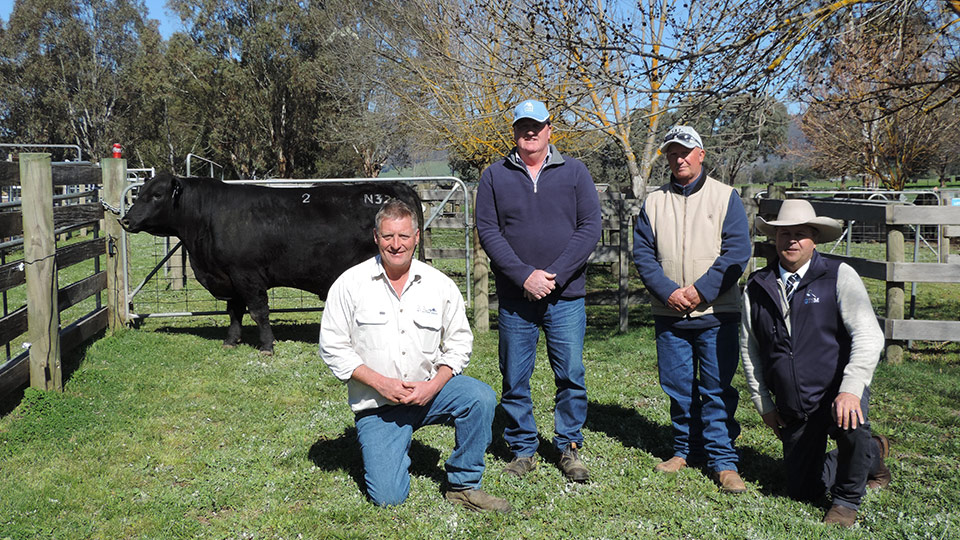 A total clearance at Alpine Angus indicates confidence | Stock & Land, Monday 16 September 2019
*Total clearance of 36 bulls sold to $10,000, av $7097
One of Alpine Angus, Rosewhite''s most prominent repeat buyers says the stud put up one of its best ever lines, at its annual spring sale.
Craig and Rob Ferguson, Bowmans Forest Pty Ltd, Bowman's Forest, paid top price of $10,000.
"They were probably the best line-up of bulls we have seen," Craig Ferguson said.,
"Manager, Chris Oswin has done a very good job with breeding and feeding, and they were quite impressive," Craig Ferguson said.
The top-priced bull, lot number two, Alpine Jackpot N329, would be used a replacement bull, for the farm's 490 strong female herd.
Bowmont Jackpot J310 sired the bull out of Alpine Quiet K105.
A September 2017 drop bull, Jackpot recorded figures of a 3.6kilogram birthweight, 52kg 200-day weight, 91kg 400-day weight and 121kg 600-day weight.
He had an eye muscle area of +3.9, rib fat of -0.5millimetres, rump of -0.3mm and intramuscular fat of +1.9per cent.
"We were buying replacement bulls; we've been buying there for quite a few years," Mr Ferguson said.
"The top priced bull was a good size for his age - he had good figures, a good phenotype and a good, straight topline."
Bowmans Forest again bought three bulls at the sale, one at $10,000, another at $9000 and the third at $5000, for an average of $8000.
Mr Ferguson said the bulls would go over the farm's 490 strong commercial female herd to breed weaners, for sale at local markets.
Last year the Fergusons put together a selection of three bulls for an average of $8000, paying to a top of $9000 of two occasions.
This year's sale saw a repeat of last year's total clearance, although there were fewer bulls offered.
In 2018, 49 bulls sold to a top of $16,000, for an average of $5765.
Alpine Angus manager Chris Oswin said the sale resulted in a very even result, with four bulls being knocked down for $5000.
"It seems like we have a pretty loyal following," Mr Oswin said.
"They presented well and went through the ring well."
Mr Oswin said Alpine was also happy with the sales of the first Australian sons of the American Sitz Investment bulls.
They demonstrated solid type, birth, growth and eye muscle.
As one of the first lots offered, Jackpot put a solid floor in the sale, he said.
Auctioneer Michael Glasser, GTSM, said many of the buyers were repeat clients, with strong support from the Upper Murray River region and Gippsland.
"The bulls presented very, very well, with a lot of natural carcase, a lot of shape, good temperament and good structure," Mr Glasser said.
"I think it demonstrates confidence, as the cattle were going to where the grass is."
---
Sale details and bull sale lots